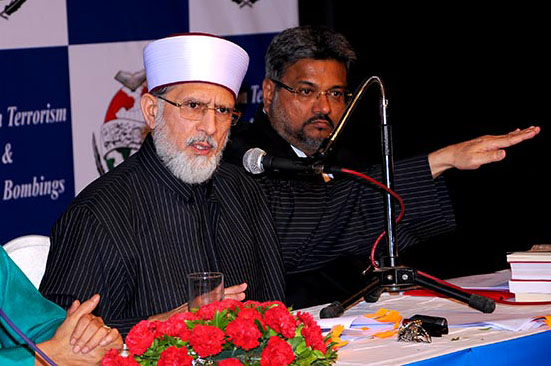 Founding-leader and patron-in-chief of Minhaj-ul-Quran International and author of the acclaimed book Fatwa on Terrorism and Suicide Bombings, Shaykh-ul-Islam Dr. Muhammad Tahir-ul-Qadri has condemned all acts of terrorism and said that the concept of "Jihad has been hijacked by terrorists".
Dr. Qadri was delivering his keynote address via a live video feed Thursday at PEOPLE's SAARC Prayer for Peace and an interfaith roundtable conference to promote peace, solidarity and harmony in South Asia. The interfaith prayer meeting and roundtable conference was jointly organised by the Observer Research Foundation Mumbai, a not-for-profit public policy think tank, and Minhaj-ul-Quran International, India, an NGO having worldwide presence.
Religious leaders representing a cross-section of faiths, who participated in the roundtable, agreed to form an action-oriented Religious High Council to promote peace, solidarity and religious harmony in South Asia. They also adopted a Joint Declaration to unite to frame a SAARC Charter for Interfaith Peace and Harmony. The Joint Declaration seeks to make South Asia a region free of wars and militarism with zero tolerance for terrorism and all kinds of violence in the name of religion and create a mutual respect for different religions by maximising people-to-people contacts, promoting democracy and good governance, boosting economic cooperation with a view to remove poverty and unemployment and protecting the environment by promoting the vision of an 'egalitarian' society.
Explaining the true meaning of Islam as propounded by the Holy Quran as a religion of peace that professed respect towards all other religions, Dr. Tahir-ul-Qadri came down heavily on terrorists and all acts of terrorism. He also drew parallels between the Holy Quran, the Vedas, Upanishads and the Bible, quoting from each of these religious texts, to highlight the similarities of their core message of peace and harmony and respect towards religions.
He also called for peaceful relations between India and Pakistan stating that instead of considering each other as sworn enemies, they should unite to fight their real common enemies of poverty, disease, illness, corruption and underdevelopment. "We need to create a society free of poverty and corruption with equitable distribution of resources, without abuse of power, one that respects human rights, with the positive use of research, science and technology," he said.
The other key participants included: 1) His Eminence Oswald Cardinal Gracias, Archbishop of Bombay and President of Catholic Bishops' Conference of India; 2) His Holiness Pujya Swami Chidanand Saraswatiji, Spiritual Head, Parmarth Niketan Ashram, Rishikesh and Founder, India Heritage Research Foundation; 3) Dr. Satyapal Singh, Commissioner of Police, Mumbai; a Sanskrit scholar and a spirited advocate for inter-religious harmony; 4) Sardar Tarlochan Singh, former Member of Parliament who served as Chairman, National Commission for Minorities from 2000 to 2003; 5) Dr. Bhadant Anand Mahathero, Sri Lankan born Buddhist monk, initiated into monkhood by H. H. Baddegama Vimalvansha, 6) Dasturji Khurshed Dastur Kekobad Dastoor, a Vada Dasturji (Head Priest) at Shree Pak Iranshah, Udvada, 7) Dr. Meenal Karnitkar, Head of the Centre of Jain Studies, Mumbai University and 9) Shri Ved Pratap Vaidik, scholar, political analyst and widely read columnist.
All the other speakers stressed the need for peaceful coexistence and mutual cooperation and that how we should get together to achieve true people-oriented development for the people of South Asia. Sadhvi Bhagwati Saraswati in her moving speech quoted statistics of infant mortality and hunger. "Violence is not just about people who are killed in acts of terror. It is also about the billons who lose their lives due to hunger and thirst. If this is not terrorism, what is?" she asked.
Shri Ved Pratap Vaidik said that South Asia has been most affected by divisions due to religion "though we all are culturally similar". He appealed to all religious leaders to move beyond talk and go, visit people, understand issues, and influence positive change.
The concluding address was given by Swami Chidanand Saraswati, who, in an emotionally charged speech, said that "time has come for us to give new innovative ways for our religion and spirituality". He also made a powerful suggestion that "efforts should now be focused towards building more toilets, and planting trees, rather than building new temples; we should move towards 'green' living".
Earlier, in his introductory remarks, Shri Sudheendra Kulkarni, Chairman, ORF Mumbai, said that though people are "very sceptical about the impact of PEOPLE's SAARC, it is time for us to break the walls of suspicion, non-cooperation and hostility". He talked about the need to awaken and activate the people, build a bridge and extinguish the fire of enmity.
The Indian editions of two books by Dr. Qadri – 'Fatwa on Terrorism and Suicide Bombings' and 'The Supreme Jihad' – were released by all religious leaders on this occasion.
Source:

http://www.business-standard.com/article/pti-stories/jihad-has-been-hijacked-by-terrorists-says-islamic-scholar-114010901187_1.html