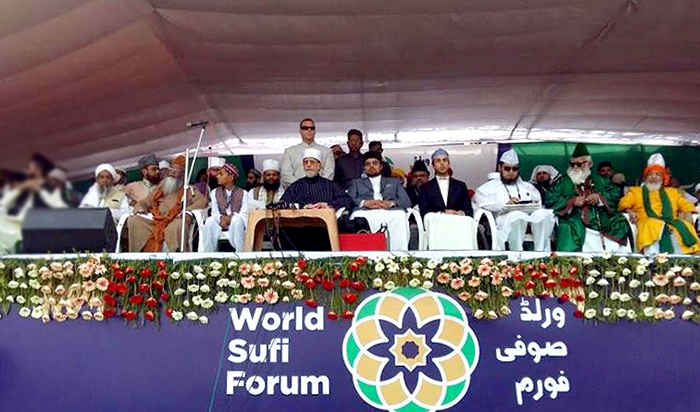 Delivering his keynote address at the concluding session of four-day World Sufi
Forum held in New Delhi on March 20, 2016, the founding leader and patron-in-chief
of Minhaj-ul-Quran International (MQI) Shaykh-ul-Islam Dr Muhammad Tahir-ul-Qadri has said that India and Pakistan are two realities. He said that they should not consider each other as enemies. He said that both countries
fought four wars but still had to come to the negotiating table. He said that real
enemy of both countries is IS. He said that resources should be spent on extinguishing
the fire of poverty for durable peace, stability and development. He said that regional
disputes should be resolved and the political use of the terrorist groups be stopped.
Dr Tahir-ul-Qadri said that terrorists can be stopped from becoming part of the
terrorist and militant groups by eliminating ignorance and poverty. He said that
Islam is a faith of peace and love and it has nothing to do with those slitting
throats of innocent people. He suggested that peace curriculum should be taught
in the educational institutions to promote tolerance, and moderation. He said that
no Sufi ever issued the Fatwa of Kufr in 1400 year old Islamic history, adding that
message of the Sufis revolves around love and respect for humanity. He said that
the Sufis included people in the fold of Islam and the Takfiri groups have been
throwing them out of the pale of Islam.
The MQI patron-in-chief said that we will have to act upon the teachings of the
Sufis anew for establishment of peaceful society, respect for humanity and upholding
the banner of Islam and the monastic order will have to be revived for this purpose.
He said that it is a bitter reality that some of the Muslim countries spent billions
of dollars to spread sectarianism in the world. He said that the Muslim community
was divided into factions, adding that the time has come for every follower of the
Holy Prophet (SAW) to feel his responsibility and step out with a message of peace,
harmony and love by confronting the groups preaching Takfiri ideology.
Dr Tahir-ul-Qadri said in his presidential address that Islamic State is based
on Kufr that is eliminating difference between what is permissible and what is not.
He said that these are the monsters that consider wine and pig as 'halal' and mercilessly
kill innocent people as permissible. He said that all governments of the world,
human societies in general and the Islamic world in particular will have to adopt
a joint strategy against Daesh.
The PAT Chairman said that Al-Qaeda, Daesh and other terrorist groups are not
new phenomenon and that they would continue to appear in one form or the other till
the Day of Judgement. He said that this 'Takfiri' group did not let Imam Malik get
out of his home for 25 years, waged Tikfiri movements against Imam Shafi'i (R.A), got Imam
Ahmad Bin Hanbal (R.A) whipped, and issued Fatwas of Kufr against Imam Ghazali (R.A) and Bayazid
Bastami (R.A) and burnt their books. He said that these are the holy personages in whose
favour history passed judgement and the books written by them are the first step
on the ladder of learning of knowledge, whereas Takfiri forces earned notoriety
in history and this is the fate they will meet in times to come.
Dr Tahir-ul-Qadri said that according to Hadith, such mischief will continue
to recur till the Day of Judgment and negligence of their excesses will be disastrous
for the humanity. He said that MQI is raising its voice against the mischief of
Khawarij in every nook and corner of the world.