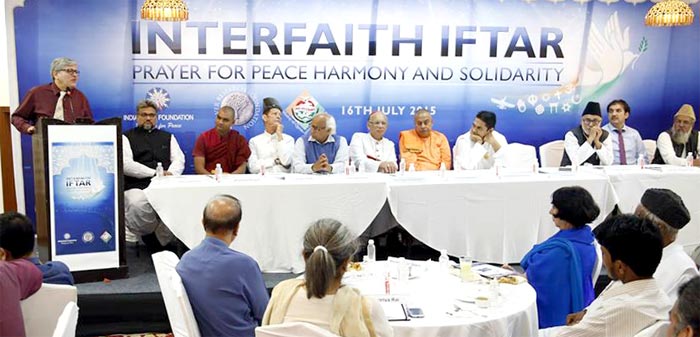 An Interfaith Iftar and Prayer Meet were jointly hosted by Minhaj ul Quran, Observer
Research Foundation and Indialogue Foundation on 16th July at Mumbai Cricketers
Association Club, BKC. It was attended by dignitaries from Muslim, Hindu, Christian,
Buddhist, Jain, Parsi faiths and intellectuals and professionals of various fields.
Rafeeq Ahmed Khan, President of Minhaj ul Quran International, introduced the
newly launched Anti-Terror Curriculum of Dr. Muhammad Tahir-ul-Qadri to the audience.
He threw light on the salient features of the landmark project.
Sudheendra Kulkarni, representing Observer Research Foundation at the event,
highlighted the importance of interfaith events in bringing communities together
and shared his vision for peace and coordination among SAARC nations.
Oswald Cardinal Gracias mentioned that Fasting is a moment of reflection and
said that Quran emphasises justice, which is the foundation of establishing peace
in the society.
Maulana Athar Ali said that there is a need to involve scholars from Muslim community
to be a part of interfaith initiatives.
Dr. Homi Dhalla emphasised the common problems like poverty, economic injustice
and global refugee crisis facing humanity that cause alienation and terrorism. He
highlighted the need to address these issues on priority through collaborative efforts.
Swami Sarvalokananda mentioned that humanity is common ground for all religions.
He quoted the anecdote of Swami Vivekanda who went to Chicago and mentioned an example
of frog growing in well who met another frog from sea and failed to understand depth
of sea.
This example shows the boundaries that human beings have built for themselves
which prevent them from seeing the bigger picture. He highlighted the teachings
of Swami Vivekananda to build bridges between communities.
Dr. Zahir Abbas Rizvi, while speaking on the occasion, said that we see in the
world that a lot of bloodshed is being carried out in the name of religion but the
irony is that when a person is dying and blood is needed for him then we do not
ask as to which religion this blood belongs.
Dr.Zahir Kazi, President Anjuman e Islam, mentioned that Islam forbids killing
of innocent civilians even during war and said that there are commonalities between
guidelines of war given by Islam and those contained in the Geneva Convention.
Dr.Yaqub of Indialogue Foundation said that his organization wants to create
an environment to bring people from different backgrounds together and quoted Turkish
Scholar Fethullah Gulen who said that interfaith dialogue is not luxury but has
now become necessity. Today the world needs peace more than ever before and we need
a global strategy to bring peace to our socities.