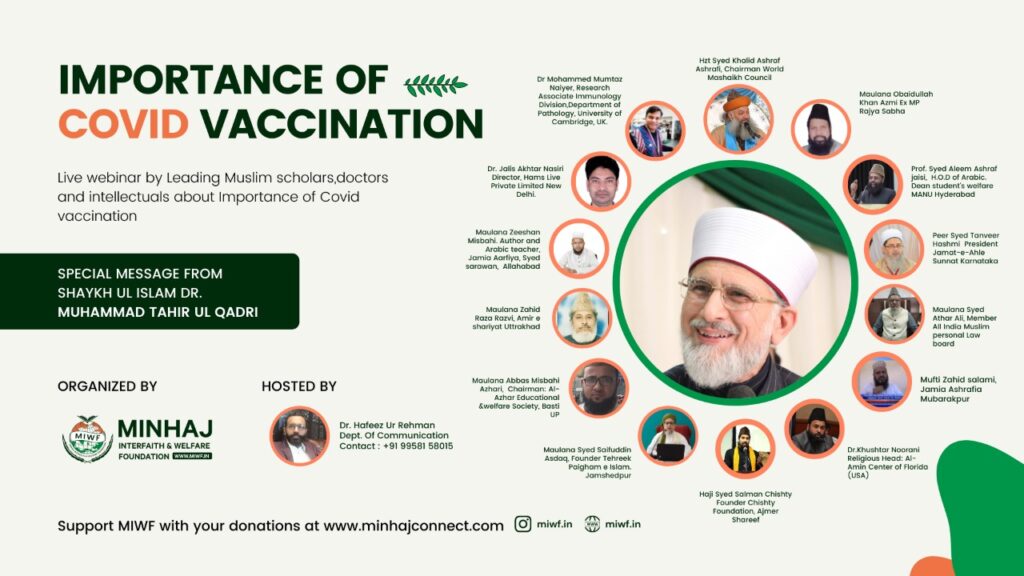 MIWF successfully conducted Webinar on "Importance of COVID Vaccination" 
Minhaj Interfaith and Welfare Foundation organized an online Webinar on "Importance of Covid Vaccination" in which leading Muslim scholars, doctors and intellectuals expressed their views and appealed to Indian Muslim community to participate in making vaccination drive successful. There was also an announcement of MIWF's Medical Helpline (1800-258-4777) for Doctor consultation and vaccination related queries.  
Professor Dr. Hafiz ur Rahman from Department of Communication announced the aims and objectives of the conference and introduced distinguished speakers to the audience.
Dr. Ajaykumar Singh, a prominent and well known doctor and Covid warrior from New Delhi said that, "Effective vaccination drives are dire necessity of our time and we should ensure that maximum people get vaccinated in order to prevent new variants of viruses from emerging. He mentioned that the proof of success of vaccination drive is that the number of deaths among health workers and older people is lesser in the second wave of pandemic compared to first wave because both these categories of people were vaccinated after the first wave and they built the immunity against the virus."
Jalis Akhtar, Director of Hams Live Private Limited stated that, "Vaccines have been launched after thorough research and have passed through all three phases. There is no government influence in the research.  By all standards the vaccine has proved successful and only 0.6% infections have been reported among vaccinated populations and these infections are non-fatal. People consider Scholars and Mashaikh as their ideal and if they lead the vaccination campaigns in their respective areas it will help to speed up the process."
Peer Syed Tanveer Hashmi stated that,"Its very important that Muslim scholars from all schools of thought should come to the forefront and play role in removing misconceptions of vaccination drive. If Muslims stay behind in the vaccination drive and don't take vaccination , then they will be blamed for third wave if it happens."
Shaykh ul Islam Dr. Tahir ul Qadri who sent a special video message for the conference from Turkey stated that, "The objections on Covid vaccination don't have any scientific, religious and logical basis. The initiative taken by Minhaj Interfaith and Welfare Foundation to create awareness about misconceptions on vaccination drive is a very timely step and will help to counter the misinformation."
Maulana  Prof. Dr Syed Aleem Ashraf Jaisi, HOD Arabic Department, MANU said that, "Misinformation is like a tree and its fertile land is an ignorant mind. Scholars should come forward and lead the drive to raise awareness among masses. The suspicion of use of unlawful ingredients in the vaccine should not prevent us for taking vaccine as we don't know for sure that the vaccine has unlawful ingredients. Necessity of saving lives changes the Sharia ruling on permissibility of ingredients even if they are unlawful. So mere suspicion cannot be used to giving ruling of unlawfulness on this vaccine. Vaccination is the only option to save life from this disease as there is no definite cure from this disease. Muslims did similar mistake of not taking vaccine when polio vaccination drive started and our community suffered badly. We need such awareness drives to change perception of people towards taking vaccine."
Maulana Athar Ali, Member of AIMPLB said that, "There is a lot of misinformation among people of all religions and not just Muslims about the Covid pandemic and vaccination drive. The cases of infections are minimum and they are being blown out of proportion by ignorant people. NGO's, scholars, intellectuals and doctors need to start awareness campaigns to remove misconceptions as vaccination seems to be the only way forward from this pandemic and preventing the third wave."
Dr. Muhammad Mumtaz Naiyar, Researcher  and Scientist -University of Cambridge, Associate Immunology Division said that "Vaccine launch goes through a scientific process. The reason why this vaccine was launched in a short period is because the impact of first wave was huge and team of scientists  were able to work on it based on past research on SARS virus. BionTech team of scientists led by a Muslim doctor Dr. Ugur Sahin from Turkey who is currently in Germany initiated the vaccine launch in collaboration with Pfizer and it uses RNA method and this vaccine has proved very effective. Astrezenca which is available as Covaxin is an inactive form of virus and it prepares immune system for infection and it was launched later. Clinical trials have been thoroughly followed before launching these vaccine for masses. There is no need of panic about the vaccine and people should take it without any reservations as the process is full proof. Imams of mosques should play key role in this drive and even should try to open Mosques as vaccination centres to remove misconceptions."
Maulana Saifuddin Asdaq,Founder of Tehreek Paigham e Islam(Jamshedpur) said that "Its important that scholars and social workers should join the fight against Covid pandemic. We have started the use of mosques and madrassahs as Covid Isolation centres and have also started Free Vaccine drives now in these institutions. The challenge we are facing is that there are lot of misconceptions which are preventing many people from taking vaccine and there is a need to remove the myths related to Pandemic and vaccines."
Syed Salman Chishti, Chishti Foundation- "Its our firm belief Disease is from Allah and its cure is also from Allah and vaccine helps in enhancing our immunity. We have started camp around Dargah of Khwaja Moinuddin Chisti in Ajmer Sharif and we asked all leading members from Dargah to take the vaccine first so that misconceptions are removed. There was no adverse effect in anyone who took vaccine. This had a good impact and many people came forward for this drive. When the religious places and mosques  and Dargahs reopen we should dedicate a specified place to take vaccine so that whoever has not taken vaccine should take it there. This will help to make the vaccine reach to masses."
Mufti Zahid Raza Razwi, Ameer e Shariat (Uttarakhand) said that, "I congratulate Minhaj Interfaith and Welfare foundation for organizing this unique event. The second wave has seen death of many renowned Muslim scholars, Mashaikh, intellectuals  and has caused irreparable loss to the Ummah. Quran is a guide for humanity and our Prophet(peace be upon him) gave guidance on how to deal with such situations. Misconceptions are preventing many people from taking vaccine as it happened in the past epidemics and such awareness events will help to clear the myths."
Allama Zishan Misbahi,Jamia Arifia(UP) stated that,"The topic of vaccination is a topic related to medical science and not related to religion but as many people had asked us about its permissibility, our religious institute – Jamia Arifia have clarified in a religious edict(fatwa) based on research about clear permissibility of the vaccine. The myths about vaccine have been spread by rumours and Quran has asked us to verify any rumour that we hear about. We should take the path of research before coming to any conclusion about a rumour. Qur'an mentions that those who can't do research should ask experts in that field. Scientists and doctors who are experts in the field of medicine are almost unanimous that this vaccine is effective in stopping spread of pandemic and we should follow them."
Syed Khalid Ashraf Ashrafi,Chairman of World Mashaikh Council urged that all Muslims should take vaccine and made dua at the conclusion of the event.
Rafeeq Ahmed Khan Saab, President MIWF gave Vote of Thanks at the end and thanked all the speakers for joining this important conference and for their informative talks which helped in clearing misconceptions about the vaccination drive.
Link for conference Recording has been provided below:https://www.facebook.com/MinhajIndia/videos/1206000536497745