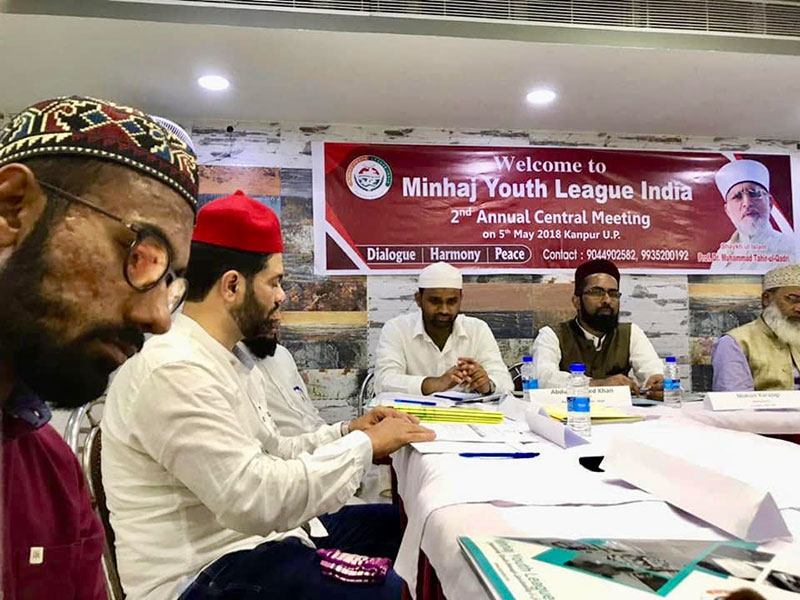 A whole day event of Minhaj Youth League volunteers across India was conducted
at Kanpur on 5th of May.
Some highlights from the event:
-Minhaj Youth League executive meet was held which had discussions about future
MYLI projects namely :
Minhaj TV(Cable),
Syllabus for schools,
Irfan ul Quran courses
Monthly Magazine,
Seerah Quiz,
Minhaj Books promotion,
Membership drives etc.
The meeting also had representation of Khurshid Ahmed (MQI), Abdul Hameed Khan
(MQI), Shakil Chishti (MIWF), Parwez, Qari Samiullah and Shoeb Malik (Minhaj Publications).
After the executive event there was a Public speech about Future of Education
and Indian Muslim by Janab Sameer Siddiqui(IAS Coach) and the speech was well received
by the audience which consisted of young students and members of educational institutions
of Kanpur. The speech was about the importance of education and being updated in
the age of competition. The speaker urged the youth to gain expertise in whatever
career they opt for.He also highlighted the fact by quoting statistics that in spite
of so much emphasis that Quran and Hadith have put on gaining knowledge , Muslims
are at the bottom of the graph when it comes to gaining mastery in knowledge. He
suggested to the youth that the only way to get out of the challenges we are facing
in our society today is gaining of knowledge( both worldly and religious).
After the public speech, there was a Video conference with Shaykh-ul-Islam Dr
Tahir-ul-Qadri for MYLI members introduction. Shaykh-ul-Islam Dr. Tahir-ul-Qadri
appreciated the work of Minhaj Youth League India and asked the MYLI team to work
in the field of promoting peace by conducting exhibitions and seminars on Anti-Terror
Curriculum in colleges and universities.
Participant states/ UT's in the meeting were:
New Delhi
Kutch
Uttar Pradesh
Gujarat
Maharashtra
West Bengal
Jammu
Karnataka
Telangana