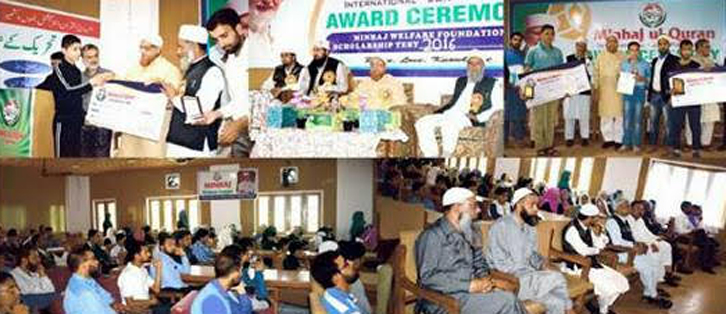 The prize distribution ceremony of inter-school scholarship tests was held on
May 14 by Minhaj Interfaith & Welfare Foundation Pulwama. The inter-school contest
was held at various schools in Pulwama and close to 1000 students participated in
it. The ceremony was presided over by Abdul Rasheed (President MQII J&K), along
with Ghulam Razik of Baroda, Gujarat who is a famous educationist and philanthropist
and was a chief guest at the occasion.
The event was also attended by Noor ul Hasan (General Secretary MQI), Misbah-e-Islam
Andrabi (District MQI President), Arshid Ahmad Khan, Mukhtar Ahmed Tantray (Secretary
Shahi Hamdan Memorial Trust Pompore), Abdul Rahim Khan (Retd. KAS Officer) as prominent
guests. In a positive development, Minhaj Women League (MWL) was founded with an
aim to promote Islamic teachings among the womenfolk.
The speakers including Abdul Rashid Khan, Noor ul Hasan, Ghulam Raziq highlighted
achievements of the organization and expressed happiness about the overwhelming
response to the quiz competition.
They also expressed their gratitude and congratulated the winners of the Talent
Hunt Contest. The event concluded with Dua by Ghulam Razik.